Our Studio Project for the Holidays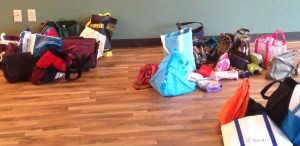 After reading about the need for practical items for those in shelters or homeless, we stepped up and made it happen!
With an outpouring of generosity and compassion, the we were able to assemble 40+ purses and totes and  filled them with donated items such as soap, shampoo, socks, scarves, deodorants, toothbrushes and toothpaste, and even snacks such as Clif Bars and juice boxes.
On Monday, December 21st, we delivered our "men's bags" to the St. Malachy shelter on Washington Avenue downtown and our "women's bags" to the Salvation Army's well-protected women's and children's shelter downtown.
A photo of the bags before we loaded them into the car is at the top of this post.
Thank you to everyone who helped!